London gets more time to control air pollution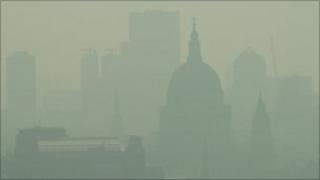 London has been given a time extension until the end of 2011 to comply with the EU's air quality standards.
This means the UK is spared from having to pay millions of pounds in fines for failing to control emissions of tiny airborne particles called PM10.
Mr Johnson's office said long-term sustainable measures are being adopted.
Campaign group Clean Air in London said the extension gives the government "dispensation for breaking the law" as previous breaches will not be counted.
Campaigners say hundreds of people are expected to gather in central London later to demand better air quality in the capital.
A Freedom of Information request to Defra by Clean Air in London revealed the time extension, because in March the European Commission had given the UK until June to control pollution levels.
'Act now'
London will be in breach of EU pollution standards in 2012 if there are more than 35 "bad air" days, after which further action can be taken by the European Commission.
Simon Birkett, director of Clean Air in London, said the extension was "disappointing" as it gives the government "dispensation for breaking the law in London every year since these 1999 legal standards entered into force in January 2005".
"The good news for public health is that no future breaches of this standard are allowed in any circumstances including during the Olympics and Paralympic Games.
"This means the mayor must act now to introduce one or more Clean Air Zones in inner London."
Campaigners said measures such as dust suppression and planting trees were highly experimental with no guarantee of success.
Kulveer Ranger, the mayor's environment director, said while the extension was "a clear sign of confidence" in the work done to tackle London's air quality the administration was "not complacent".
"Whilst meeting legal limits is an important goal, the mayor is introducing a package of long-term sustainable measures.
"These in combination are set to reduce PM10 emissions in central London by a third by 2015 and include the city's first ever age limit on black cabs, tighter standards for the Low Emission Zone and investment into greener travel choices," he added.
PM10, is emitted mainly by industry, traffic and domestic heating, and can cause asthma, cardiovascular problems, lung cancer and premature death.
Countries could be referred to the European Court of Justice and face millions of pounds in fines if it breaches pollution levels.