Tottenham Hotspur urged to drop Olympics stadium battle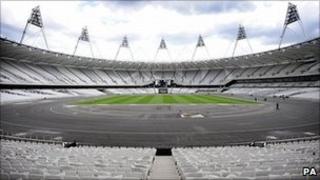 Sports Minister Hugh Robertson has appealed to Tottenham Hotspur not to put London's bid for the 2017 World Athletics Championship at risk.
The football team is seeking a judicial review of the decision to award the stadium to West Ham after the Olympics.
On 1 September, the International Association of Athletics Federations (IAAF) will announce candidate cities.
If the legal action is continuing after then, the bid for the championships may have to be withdrawn.
Mr Robertson said: "We need to confirm a bid by 1 September.
"The key thing is if we can get Tottenham's and Leyton Orient's appeal through the High Court and, I would say, dismissed.
"If the High Court is not settled we don't have a secure venue. That would make it very difficult to bid."
West Ham United is due to move into the stadium, in Stratford, east London, in the summer of 2013.
But Tottenham were unhappy with the processes which led to this decision and are seeking a judicial review into the roles of several other key parties involved.
Tottenham's defeated bid for the stadium included removing the athletics track.
He added: "I would hope Tottenham would see the greater good to London, maybe it's a fond hope.
Tottenham Hotspur has not yet responded to Mr Robertson's comments.
The Qatar capital of Doha is favourite to win the 2017 event with Budapest and an as yet unnamed Spanish city also competing.