London 2012: Short-term jobs 'should not be overlooked'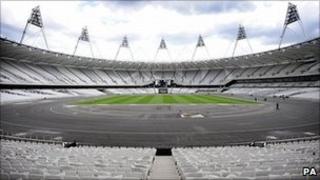 More needs to be done to maximise the number of low-skilled and unemployed Londoners who could get work at the 2012 Games, a report has said.
Up to 100,000 jobs will be on offer - most requiring entry-level skills.
The London Assembly report said the new Work Programme, which aims to secure long-term jobs for applicants, should not overlook short-term Games roles.
The government said it was working with London businesses to help jobseekers take advantage of these opportunities.
Thousands of jobs will be up for grabs in the catering, hospitality, cleaning, waste, leisure, security, tourism and leisure sectors during the London Olympics.
The assembly's economy, culture and sport (ECS) committee said London's mayor Boris Johnson and the host boroughs should ensure the Work Programme does not overlook short-term Games-time roles.
It calls on JobCentre Plus to do more to ensure the benefits system does not discourage people from taking on Games-time roles, which may only last up to three months.
Applicants can face delays in reclaiming their benefits when short-term jobs come to an end, potentially leaving them out of pocket, the report said.
ECS committee deputy chairman Len Duvall said the Games could be a "fantastic boost" for job hunters with the chance of gaining experience and a foothold on the employment ladder.
A Department for Work and Pensions spokesman said its main priority was to help people into long-term and sustainable employment through the Work Programme.
He said: "Temporary Olympic Games jobs can provide vital experience and a stepping stone to permanent work and that's why Jobcentre Plus is working with London businesses and organisations to help jobseekers take advantage of these opportunities."
A spokesman for Mr Johnson said he lobbied the government to safeguard the £14m Olympic Employment and Skills Programme to boost training and jobs around the 2012 Games to help workless Londoners.