Protest at Royal Brompton child heart unit closure plan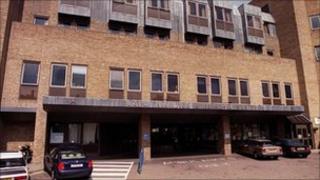 Protesters are marching to show their opposition to plans to end child heart surgery at the Royal Brompton Hospital.
An NHS review proposes stopping child heart operations at either four or five hospitals, including the Royal Brompton.
Staff and patients who have been treated at the child heart surgery unit and their families marched from Westminster to the hospital in Chelsea.
They want to highlight the impact of the closure to MPs and the public.
Four options
The protest was organised by the Brompton Fountain, a charity supporting families whose loved ones are being treated at the unit.
Trudy Nickels, the manager of the charity, said the unit meant a lot to the people protesting, some of whom were in tears at the start of the march.
She said the closure of the unit, where her son Freddie has been treated for the past five years, would have a huge impact on her family.
"They are specialists in their field and so supportive," she said. "They have always been here for us - we want that continuity of care to continue."
A Joint Committee of PCTs (JCPCT) has proposed four options as part of the Safe and Sustainable review - all of which involve stopping operations at either four or five hospitals.
A total of 11 units are under review including services at three London hospitals: The Evelina Children's Hospital, Great Ormond Street Hospital for Children and the Royal Brompton Hospital.
Pooling expertise
A final decision will be made in the autumn following a public consultation.
The Royal Brompton and Harefield NHS Foundation Trust's board has launched a legal challenge to the decision.
It claims that the recommended options put for consultation were so flawed that a consultation based on them would be "unlawful".
A spokesperson for the NHS Specialised services said: "Pooling expertise will help the NHS make further improvements to patient outcomes and deliver a truly excellent service.
"The Royal Brompton and Great Ormond Street hospitals published a very detailed report just two years ago recommending the amalgamation of some children's services on one site. What clinicians said themselves in 2009 is still true today.
"Safe and Sustainable is about ensuring excellent care for children with congenital heart disease."