2012 London Olympics 'Games Lanes deaths risk'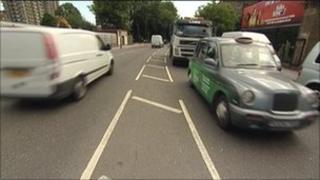 Former London mayor Ken Livingstone has said removing pedestrian crossings in "Games Lanes" during the Olympics may lead to fatalities.
Athletes and officials will be able to use the special lanes during the Games.
Referring to the lanes, Mr Livingstone said: "We don't want it to be marred by extra deaths on our roads."
But Transport for London (TfL), who will manage the lanes, said: "TfL has worked hard to minimise the impact to London's pedestrians."
The lanes will created be in areas including The Highway, in east London, and around Wembley Stadium, in the north west of the city.
Other lanes will run though central London, out to the main Olympics site at Stratford and also to Greenwich.
The games lanes will be on a third of the 109 mile Olympic Route Network, which will be roadwork-free and cover 1% of the capital's roads.
The ORN will be used by 18,000 athletes and officials during the Olympics as well as 6,000 during the Paralympics.
Responding to the comments of Mr Livingstone, who is Labour's 2012 mayoral candidate, a Transport for London (TfL) spokeswoman said: "Where crossings have been suspended there will be clear directions to the closest available crossing facility - at its furthest this will be a three minute walk.
"In choosing which crossing to retain, pedestrian demand, public transport connections, associated facilities and land use were taken into consideration."
Chief Operating Officer of London Streets, Garrett Emmerson, said: "We expect the routes to begin operation just a couple of days before the Games begin and certainly not before the school summer holidays, when traffic levels drop by up to 10%."