Richmond Council to return £1m 'unlawful' parking fines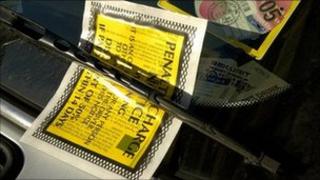 Drivers could get back more than £1m paid out in parking fines after a London council found the penalty charge notices (PCNs) were "unlawful".
Richmond Council said more than 20,000 PCNs given between April 2009 and April 2011 by CCTV cars cannot be imposed as the cars were "not properly certified".
Refund appeals made by late October will be "automatically allowed".
Richmond Council said it will launch an "extensive advertising campaign", expected to costs thousands of pounds.
Councillors will discuss the issue at a meeting on 23 July after which the local authority will advertise the offer of refund on its website, local newspapers and through its local partners.
The council said it will carry out an external review of its parking services, which will also look at "the operation of all cameras and the enforcement service".
The decision to refund the PCNs comes after it was found that four CCTV cars used for parking enforcement were not properly licensed, following concerns raised by drivers.
Two cars, used by the council since February, were now correctly licensed but they will not be used until the parking review is carried out.
Council Leader, Nicholas True, said: "It may be argued that many of the actions of the drivers concerned were contraventions.
"Had the cameras (cars) been properly certified most would have been.
"We will be launching an extensive advertising campaign to contact motorists."
Peter Ashford, of the London Motorists' Action Group said "The administration cost of this exercise is estimated at £50,000 to £100,000 which is small change for the benefit of retaining most of this massive sum of penalty money."
Mr True said the money not reclaimed by motorists would be used in road and parking schemes.