Met Police 'kettled children' at London student protest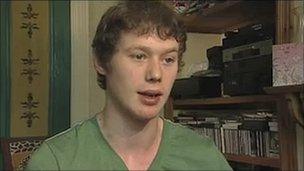 The Metropolitan Police (Met) contained schoolchildren, some aged just 11, for hours in a "kettle" during the tuition fees protests in London, a court heard.
Adam Castle, 16, his sister Rosie, 15, and Sam Eaton, 16, all from north London, were held at Trafalgar Square on 24 November for about seven hours.
Their barrister told the High Court police should have had a plan to release young children.
All three are seeking damages, claiming their human rights were breached.
The court heard one 11-year-old protester was contained in the kettle until after dark.
Rosie Castle was not released from the containment for six hours while the boys were trapped for seven-and-a-half hours as they planned to join a march to Parliament.
The children, from Acland Burghley School near Tufnell Park, and 10 of their friends were trapped for hours in the kettle without any food and very little water.
Barrister Martin Westgate told Lord Justice Pitchford and Mr Justice Supperstone that although police's decision to use the tactic was lawful because of their fears of breach of peace, children should not have been prevented from leaving.
He said: "The simple point here is there should have been a plan in place to release young children within the containment, unless there were good reasons not to do so - for example, there was a reason to suspect they were about to commit a breach of the peace."
There was no suggestion that there was "a significant number of violent children" in the kettle, he added.
Children had asked officers to release them but they were not permitted to leave, the court heard.
Mr Westgate said: "One 11-year-old was told to get back at a fairly late stage of the containment."
The children, who participated in the protest with their parents' consent, were kettled an hour after arriving.
Two portable toilets were provided for demonstrators after they had been contained for five hours, the court heard.
Outside the court Sam Eaton said: "I just felt like we were being punished for demonstrating, as opposed to us doing anything illegal."
Adam Castle said: "It was one of the coldest days of the year and we had not been prepared for being held into the night.
"As children we can't vote, so one of the best ways for us to voice our opinion is through protest and if that's stopped or inhibited by kettling then where are we left?"
He said he was separated from his younger sister, who was allowed to leave the kettle more an hour before him.
"She knew where she was, but she didn't know how to get home. She didn't expect to be separated and left out in the middle of London in the evening," he added.
The teenagers claim the Met failed to safeguard and promote the welfare of children under section 11 of the Children Act 2004, and breached the Human Rights Act 1998 by curbing their right to demonstrate and freedom of expression.
Related Internet Links
The BBC is not responsible for the content of external sites.