Call for London 2012 toilet map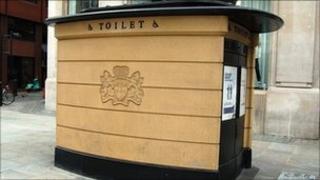 Locations of public toilets in the capital should be charted in a map before 2012, according to a report.
There are 401 council-run toilets but the information about their location is "incomplete and inconsistent".
The London Assembly report also called for a rise in toilets before the Olympics.
It asked Mayor Boris Johnson to provide more toilets at train, bus and Crossrail stations.
London has seen local authority maintained facilities falling from 486 in 2000 to 401 in 2011, which meant it had "a closure rate twice that of the country as a whole", the Health and Public Services Committee report said.
'Vital service'
On London's transport network, 88 Tube stations (out of more than 270) and 13 bus stations provided amenities for millions of travellers and the report urged the mayor to "push Crossrail to include public toilets at its stations".
The report said a map of toilets should be made available online, via the London Travel Information Line, Visit London and TfL websites and in print.
Beijing spent £27m to provide for 4,700 public toilets for the 2008 Olympics, the study cited.
Victoria Borwick, chairperson of the committee, said: "Public toilets are a vital service for Londoners and visitors, and access to them will become especially important with the extra visitors expected for the 2012 Games.
"We are very disappointed that none of the Crossrail stations in London will have toilet facilities.
"This is a missed opportunity as the scheme offers an ideal and cost-effective chance to increase the numbers of toilets in the capital, especially for disabled users."
'Short duration'
A Crossrail spokesperson said 22 of its 29 stations in the Greater London area will have "access to a toilet", as most of these will be integrated with existing mainline or Tube stations which already have toilet facilities.
"As Crossrail will be a high-frequency metro-style service, where the vast majority of journeys will be of a short duration, it is not intended that toilets will be provided on Crossrail trains.
"Six central section stations will integrate with Tube and National Rail stations, including Paddington and Liverpool Street, where there are existing toilet facilities."
London Assembly asked the government to make it a "duty" for councils to ensure adequate levels of public toilets.
It also asked boroughs to encourage council buildings and private shops to join a scheme to open their facilities to the public.