Waris Dirie in London school's female circumcision film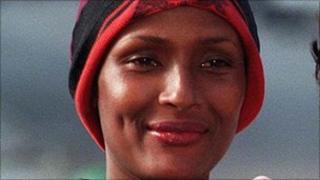 Girls from a south London school have made a film to raise awareness of female genital mutilation (FGM).
The film, Cut - Some Wounds Never Heal, by Lilian Baylis Technology School in Kennington, features Somali model Waris Dirie, who was a victim of the practice.
It is available as a free download for all schools.
The Metropolitan Police (Met), which financed the project, said at least 6,500 girls are at risk in the capital.
The Foreign & Commonwealth Office and Kids Taskforce funded the project along with the Met.
The practice of FGM - also known as female circumcision - is usually carried out on girls aged between four and 13 for cultural or religious reasons.
The Met believes girls are taken away to their native countries for the procedure during school holidays, giving them time to heal.
The film is aimed at girls aged 11 to 17.
'Absolutely criminal'
Ms Dirie said: "Female genital mutilation targets little girls, baby girls - fragile angels who are helpless, who cannot fight back.
"So it's a crime against a child, a crime against humanity.
"It's abuse. It's absolutely criminal and we have to stop it."
The Met said 41 cases of FGM was brought to its notice in 2010 and until June this year it had heard of about nine cases.
Commander Simon Foy said: "It is painful and traumatic and harmful to girls and women in many ways.
"We would urge anyone who believes a girl is vulnerable to come forward and alert the police or other agencies so that they can be protected."
Sharon Doughty, president of Kids Taskforce, said: "This is a practice that needs bringing out into the open so that it can be addressed - by working with communities here to change minds."
FGM is illegal in the UK and under the 2003 Act it is also illegal for girls to be taken to another country for the procedure.
People convicted of being involved in or facilitating FGM could be jailed for up to 14 years.