Crossrail: £600m bond is secured with Lloyds TSB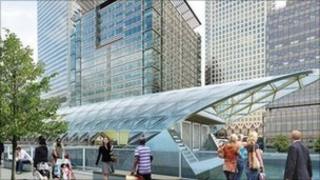 Mayor of London Boris Johnson says he has secured a £600m bond issue to fund the Crossrail project.
The planned rail route will connect Maidenhead in Berkshire with Shenfield in Essex, passing through the West End and Canary Wharf.
Mr Johnson claims his financial deal will save London businesses £65m in tax.
It is the first time in almost two decades a local authority has tapped the markets for finance in this way.
The bonds will be issued in association with Lloyds Bank Corporate Markets.
They will allow for capital to be raised 0.17% more cheaply than the current option, the mayor said.
'Follow their lead'
He said: "Crossrail is going to transform our city but it must be cost-effective, especially for London's businesses.
"This is a great example of the public and private sectors coming together and delivering an innovative solution to bear down on borrowing costs.
"I hope this is a model local government can develop for other important improvements we make to the capital and beyond."
The co-head of Lloyds Bank Corporate Markets Andrew Geczy said: "It is more than 17 years since a mainstream local authority has secured finance via the public markets, so this transaction is significant as well as innovative.
"We are delighted to have assisted the GLA to access the public markets and we fully expect other local authorities to follow their lead."