London Mayor Boris Johnson attacks HS2 high-speed rail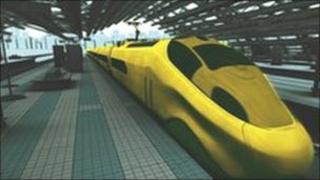 Mayor of London Boris Johnson has criticised plans for the HS2 high-speed rail link in a letter to a campaigner.
The proposed line would link London with Birmingham, Leeds and Manchester. But Mr Johnson wants any track through London to go in tunnels.
He also claimed the line would double the number of passengers at Euston Station - and said the government would need to increase Tube capacity.
Number 10 has repeatedly said it backs the scheme.
The first phase of HS2 would link London and Birmingham, cutting rail journey times between the two cities.
Last week Prime Minister David Cameron told an audience in Birmingham: "The government is committed to HS2."
But the mayor wrote in his letter to anti-HS2 campaigner Jerry Marshall: "While I have expressed support for a high speed rail network in the past my support is conditional on a number of specific criteria and on the need to make the new railway work well for London.
"The proposal now being consulted on does not reflect these conditions and is inadequate for a number of reasons.
"It is perverse that a section of the route through Greater London, clearly affecting large numbers of people, has been subject to so little environmental mitigation."
Confirming the contents of the letter, a spokeswoman for Mr Johnson said: "It was a private letter.
"The mayor supports high speed 2 in principle. He just has concerns over the route as it stands."
A Department for Transport spokesman said: "London's economy stands to benefit from HS2 - that's why the capital's business community strongly supports the scheme.
"While our proposals will have an impact on communities directly affected, we are committed to doing everything possible to mitigate this.
"This is demonstrated by the fact that the alignment of the route has already changed."
He added: "Euston Underground station will see an overall increase of just 2% in the number of passengers travelling on the Tube through Euston at peak time."
The scheme is projected to cost £30bn.