West Ham legal action over 2012 stadium claims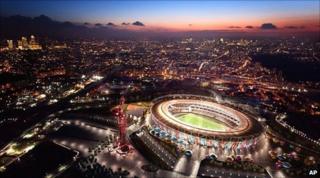 West Ham United are taking legal action against Tottenham Hotspur and The Sunday Times over allegations about the Olympic Stadium bidding process.
West Ham said they were treating the claims "with the utmost seriousness".
It comes after an Olympic Park Legacy Company (OPLC) employee was suspended when it emerged she worked for West Ham during their bid to use the stadium in London after the 2012 Games.
West Ham said they were "certain of the robustness" of their successful bid.
A West Ham spokesman said: "West Ham United can confirm the club are taking legal action in relation to allegations made in today's Sunday Times.
"We are certain of the robustness of our successful bid for the Olympic Stadium."
Consultancy work
On Friday it was revealed that an OPLC director had been suspended on full pay after it emerged she had been undertaking paid consultancy work for West Ham.
The director, later named by West Ham as Dionne Knight, had declared "a personal relationship" with a Hammers employee when she started at the OPLC, but on Thursday she told the legacy company of her work at the club.
The OPLC said she was being suspended while any possible conflict of interest was investigated.
The OPLC board voted 14-0 in February to back the Hammers as first choice to move into the £486m stadium after the Games. The OPLC and West Ham said Ms Knight had no involvement in that decision.
West Ham said they had already carried out an investigation into the woman's role with the club.
West Ham plan to retain the running track after moving into the stadium and create a 60,000-capacity arena for football, athletics, concerts and community use.
Last month, attempts by Tottenham and Leyton Orient to get a judicial review of the OPLC's decision in favour of West Ham were rejected.
Spurs' plan had involved knocking down most of the structure and rebuilding it without the running track, instead rebuilding the National Sports Centre at Crystal Palace.