Olympics director suspended over West Ham link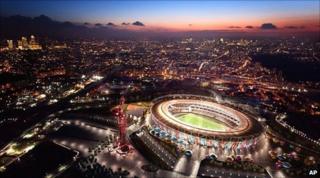 An Olympic Park Legacy Company (OPLC) director has been suspended after it emerged she worked for West Ham United during their bid for the Games stadium.
The woman has been suspended on full pay while any possible conflict of interest is investigated.
The OPLC board voted 14-0 in February to back the Hammers as first choice to move into the £486m stadium after the Games.
The OPLC and West Ham said the woman had no involvement in that decision.
The woman had declared "a personal relationship" with a Hammers employee when she started at the OPLC, but it was on Thursday evening that she told the legacy company of her work at the club.
'No permission'
In a statement, the OPLC said: "It has come to our attention that an employee of the Olympic Park Legacy Company has been undertaking paid consultancy work for West Ham United FC.
"The company had no knowledge of this work and no permission was given to undertake it.
"This individual had no involvement whatsoever in our stadium process.
"The individual concerned had declared a personal relationship with an employee of West Ham United Football Club when she joined the organisation and we therefore put robust measures in place to ensure our stadium process was not compromised.
"The stadium team has been based at our law firm Eversheds' offices in the City and only the stadium team had access to information about the bids.
"As soon as this new information came to light the company took immediate action and launched an independent investigation."
'Integrity'
West Ham said it had already carried out an investigation into the woman's role with the club.
A spokesman said: "We have become aware of inquiries being made in respect of a lady who has undertaken work for West Ham United on a consultancy basis relating to the Olympic Stadium project.
"We have established that the work that was carried out was not connected in any way to the bidding process for the Olympic Stadium but procurement project management thereafter.
"We are of the firm view that the integrity of the bidding process has not been compromised.
"We consider that the bidding process was robust and believe that remains the case."
Last week, Judge Mr Justice Davis rejected a request from Tottenham Hotspur and Leyton Orient for a judicial review into the awarding of the stadium to West Ham.
But Tottenham are to make further argument for a review in an oral hearing at the High Court.
A spokesman said the club was consulting lawyers over the OPLC director's suspension.