MPs back Wanstead Flats police base plan for Olympics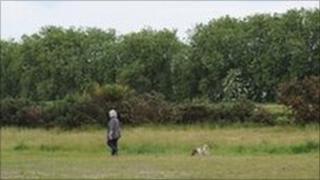 MPs are looking to temporarily amend a law to allow the Metropolitan Police (Met) to set up a base on protected land during the London Olympics.
The Met wants to use Wanstead Flats, in Epping Forest, which is close to the 2012 site in Stratford, east London, as a base for thousands of officers.
But the 1878 Epping Forest Act protects the land from development.
Home Office minister Lynne Featherstone said it would "inconvenience" residents but it was "the best solution".
Previously campaign group, the Friends of Epping Forest, had said it wanted "appropriate restoration" and compensation for the use of the area.
'Very deep concerns'
The Met plans to turn the site into a "muster, briefing and deployment centre" and has promised to dismantle the structure and restore the site after the Games.
The force also promised to pay £170,000 as rent for the use of the land.
The minister told MPs: "The government does accept that there will obviously be some disruption and some inconvenience to local people.
"However we are satisfied that this is the best solution to a specific problem serving the wider public interest."
Labour's John Cryer, MP for Leyton and Wanstead, said his constituents had "very, very deep concerns".
He said: "Wanstead Flats is a very much cherished local amenity and has been since 1878 and the decision to build a police muster centre for the 2012 Olympics on a piece of precious common land is simply wrong and shouldn't have been seen through in the first place."
But Eleanor Laing, Conservative MP for Epping Forest, backed the plan saying: "Because this order before us today refers specifically to a 90-day period, I feel able to support it."
The proposed area for the base was about 2% of the whole of Wanstead Flats and was used by circuses and firework displays, she added.