More than 140 treated on hot day at Wimbledon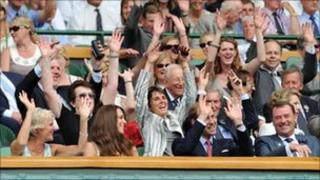 Many tennis spectators at Wimbledon needed medical treatment as temperatures soared past 30C in London.
A total of 146 people had been treated by St John Ambulance volunteers by 1630 BST, with one person taken to hospital.
The number of people treated was significantly higher than in previous days of the 2011 tournament.
Ninety people were treated on Saturday while 87 people treated on Friday. St John Ambulance said the heat was responsible for many falling ill.
"Although we cannot give a specific breakdown of the nature of casualty figures at this stage, it would be sensible to assume, given the high temperatures, many of these recorded incidents were indeed related to heat," London St John Ambulance commissioner Ann Cable said.
"If you feel unwell then be sure to visit us in the first aid room for assistance. There are some small things that people can do to stay healthy," she added.
"It sounds obvious to stay hydrated and cover up in the sun but every year we treat people who are dehydrated or suffering sunburn or sunstroke, which can ruin your day and are easily prevented."
About 50 St John Ambulance volunteers provide first aid on each day of the championships.