Dame Judi Dench given Freedom of London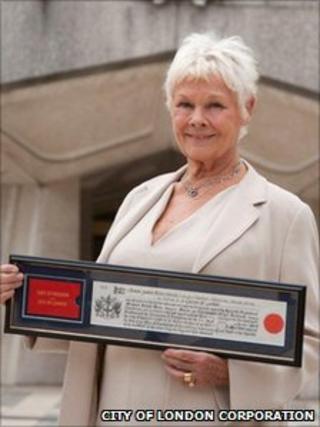 Dame Judi Dench has received the Freedom of the City of London for her services to acting.
At a ceremony at the Guildhall, Dame Judi said she was "honoured" and looked forward to the perks it allowed her.
"I look forward to being able to drive my sheep over London Bridge, and occasionally wearing a sword in public," she said.
The Freedom is offered by the City of London Corporation to celebrate a significant achievement.
The ceremony, in the Chamberlain's Court at the Guildhall, began with her reading out loud the Declaration of a Freeman and ended with her being greeted by Chris Bilsland, Chamberlain of London, as a "Citizen of London".
The 76-year-old was then presented with her framed parchment certificate.
'Hugely admired'
Deputy William Fraser and Gerald Bodmer, a Liveryman from the Worshipful Company of Feltmakers, both nominated Dame Judi.
Deputy Fraser said: "In an exceptional career spanning more than 50 years, the breadth of Dame Judi's roles has been astonishing - Sally Bowles, Queen Elizabeth I, Queen Victoria, Iris Murdoch, Mother Courage, Lady Bracknell, M in the Bond films and her many Shakespearean roles.
"She is hugely admired and respected by audiences and colleagues."
The Freedom of the City of London is believed to have begun in 1237 and enabled recipients to carry out their trade.
The title is also offered to individuals by the City of London Corporation to help celebrate a significant achievement, or to pay tribute to their outstanding contribution to London life.
Many of the so-called traditional privileges associated with it, such as driving sheep over London Bridge or being hanged with a silken rope, no longer exist.