How much disruption will Tube strike cause Londoners?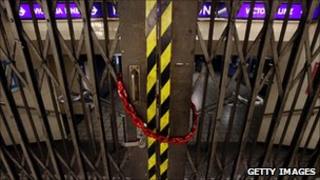 Sunday's strike on the Tube is certainly unusual. The walkout by National Union of Rail, Maritime and Transport Workers (RMT) members is from 2100 BST on Sunday until 0300 BST on Monday.
London Underground (LU) says: "We expect this strike to have very little impact both on Sunday evening and on Monday morning and are working hard to ensure this is the case."
Of course there is still a risk of disruption.
LU says normally 80 drivers clock on between 2100 and 0300. Non-union members and members of the other drivers' union the Associated Society of Locomotive Engineers and Firemen (ASLEF) may still go in.
So a rough guess is that 40 drivers won't be on that shift as the morning shift of drivers that starts at 0430 is unaffected.
Minimum disruption?
Trains may end up in the wrong place and the service may be wound down early on Sunday night to make sure they don't.
And, of course, problems on the Tube can snowball extremely quickly. So for commuters it is worth keeping an eye on the service on Monday morning.
But LU is extremely confident that having looked at the drivers' rotas, disruption will be minimal.
So, why is the RMT striking on Sunday?
What this is really about is keeping the RMT's strike mandate alive as well as sending a clear message.
Remember, there is a pay negotiation also going on at the moment that may or may not take in the Olympics.
By law any union has to take industrial action within 28 days of balloting its members.
That can be extended to 56 days as has happened in this case. It was agreed with LU as part of an agreement over the reinstatement of Eamonn Lynch, another sacked driver.
That mandate runs out on Monday.
Cash incentives
LU also says Sunday's strike has been designed to ensure the minimum number of RMT members having to actually strike and suffer any loss of earnings as a result.
I have learned the RMT is offering to pay drivers £100 if they lose out on pay by going on strike.
They are also offering to pay ASLEF drivers the same amount - the union representing roughly the other half of Tube drivers - if they don't go in and refuse to cross picket lines and lose pay as a result.
The cause of the strike, as outlined previously, is the sacking of the Tube driver Arwyn Thomas.
A tribunal is due to deliver its verdict in his case by the end of June - possibly before the next planned strike on 27 June.
That strike goes overnight from 2100 BST to 1200 BST and that looks certain to cause serious disruption.
The strike dates are:
Monday, 27 June from 2100 BST to Tuesday 28 June 1200 BST
Wednesday, 29 June from 1200 BST to Thursday 30 June 1200 BST
Friday, 1 July from 1200 BST to 2100 BST
Let me know your thoughts.