Mike Tuffrey seeks Lib Dem London mayor nomination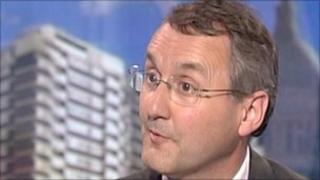 London Assembly member Mike Tuffrey has officially launched his campaign to win the 2012 Liberal Democrat nomination for mayor of London.
One of his main pledges is to build 250,000 homes in the capital.
Former MP Lembit Opik has already said he wants to be the Lib Dem candidate and councillor Duwayne Brooks, a friend of murdered teenager Stephen Lawrence, has said he may run.
Nominations close on 17 June with the winner announced on 12 August.
Talking about his home building pledge, Mr Tuffrey, 50, said: "It's time for serious solutions to the big challenges we face if London is to remain a great city to live, work and raise a family in over the next decade.
Ambitious for London
"With new powers coming from central government, we need a Greater London Authority - mayor and assembly - that is ambitious for London, like the Greater London Council (GLC) of old."
Mr Tuffrey was first elected to London government in 1985, just before the GLC was abolished.
He has been a London Assembly member since 2002 and has led the Lib Dem group during the time Labour's Ken Livingstone and Conservative Boris Johnson have been mayors.
Both Mr Livingstone and Mr Johnson will run for election next year. Jenny Jones has been selected as the Green Party's candidate.