Danny Baker says he has won his battle against cancer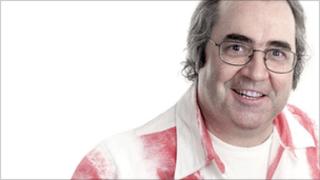 The radio presenter Danny Baker has been given the all-clear after being treated for cancer.
The BBC London 94.9 and BBC Radio 5 presenter said on Twitter: "The call I have been waiting for just happened. Turns out I won. I'm all clear. I'm well again."
Baker, 53, returned to work in April after falling ill late last year.
Last month he picked up a Sony award for speech radio personality of the year.
After saying he had beaten cancer, he later tweeted: "I will be wearing this hat for the foreseeable future," attached with a photograph of him wearing a baseball cap with the word "Lucky" on it.
Baker received the cancer diagnosis last autumn and said in November he would be off-air while he received treatment.
His career has included TV work, including as a presenter on LWT's The Six O'Clock Show and his own BBC One show.
He was also a music journalist for New Musical Express.