Londoners eye dead bee images in 'bee-friendly' scheme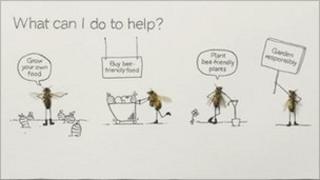 Images of dead bees are being used in a campaign encouraging Londoners to help save urban bees by behaving in a "bee-friendly" way.
Seven million Londoners are being urged to buy and grow bee-friendly food and do bee-friendly gardening.
Pledges of support for London's bees can be made on the Capital Growth website.
The visuals and video clips will be used on billboards across the Tube, from Friday.
Bees-on-stretcher
They are based on work by cult artist Magnus Muhr's "dead fly" images.
Known for his imagery of dead flies, Mr Muhr's original artwork has been adapted by creative team LIDA, which is part of M&C Saatchi, for the campaign.
The artwork shows bees on a drip, on a stretcher and in a hospital bed.
A 'bee-movies' show depicts bees taking part in everyday London-based adventures such as cleaning a window or travelling on the Tube.
Mayor of London, Boris Johnson, said: "My 'bee-friendly' pledge as mayor is to zealously safeguard our city's green spaces.
"Through Capital Growth, we aim to create 2012 community food growing spaces in London by 2012 which will provide nectar-rich plants for bees."
Pledges can be personalised but suggested bee-friendly behaviours include growing your own bee-friendly food including fruit trees, tomatoes and soft fruits, and shopping for bee-friendly foods such as locally-sourced honey or organically farmed crops.
Choosing bee-friendly gardening by minimising use of pesticides is also encouraged.
Mikey Tomkins, London Food Link, said bees should be protected because they are a vital part of our ecosystem.
Create sanctuaries
"They pollinate at least 30 per cent of the food crops we consume," he said. "They are directly responsible for the growth of many fruits, vegetables, live-stock feed and even cotton for fabrics. One in three mouthfuls of the food we eat is dependent on pollination."
Capital Growth is also supporting the development of 50 new community bee hives across London to create sanctuaries for the urban bee.
Meanwhile Capital Bee is helping to train 50 community beekeepers in London.
The campaign is being launched by the Mayor of London at a beehive in Hoxton, east London.