Jubilee Line upgrade: 'expect teething problems'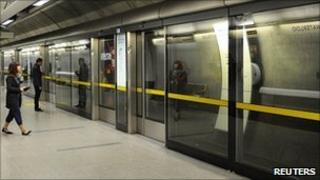 The new deputy mayor for transport says the much delayed Jubilee Line upgrade will be completed by the end of July - but has warned of teething problems.
Isabel Dedring said 27 trains an hour - six more than normal - will run once the new signalling system is working.
Stations have closed on more than 100 weekends since 2007 and deadlines missed.
Tube Lines began the work but it was passed to London Underground last June, when it took over the maintenance firm.
In November, London Underground said the upgrade work should be completed by spring, but that deadline was missed as have a number of others.
The delays have been branded a "debacle" by London Mayor Boris Johnson, and were criticised by MPs.
Northern Line
Labour's transport spokesperson, Val Shawcross, said: ''Tube passengers want action, not more excuses.
"The latest figures from TfL show there has been a rise in overall delays across the Tube by a staggering 16% in the last year, and every day Londoners experience delays to their journeys.
"It's not good enough and Conservative Mayor Boris Johnson must get a grip of the Tube."
Last year the Commons Transport Committee said: "The ongoing disruption caused to people who rely on the Jubilee Line to go about their daily lives, and the cost to businesses, is unacceptable."
But Ms Dedring, who was made the deputy mayor for transport in April, said the new signalling system will be integrated by the end of next month.
Upgrade work
But she said the experience of introducing "something as massive as this" in metros around the world had shown there to be some initial problems.
"We really have tried very hard to make sure people will not have that same level of disruption, but we want to make sure people are prepared," she said.
A London Underground (LU) spokesman said it hopes to run 30 trains an hour by the end of the year, which would be nine more than the old signalling system would allow.
LU has also said it will be reducing the number of weekend closures for the upgrade work to the Northern Line.
Tube Lines had proposed 65 weekend closures on the line, many of which would have seen the whole line, or large parts of it, shut down.
Instead, there will now be just eight full-line weekend closures - five in 2013 and three in 2014.