Hosepipe ban unlikely, says Thames Water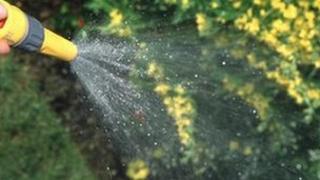 Thames Water has said it is unlikely to introduce a hosepipe ban this year, despite a fall in supplies.
The company said its reservoirs were 90% full but urged its customers to "use water wisely" as it was too early to predict the weather over the summer.
It comes as the government declared East Anglia as officially in drought with parts of south-east of England in a "near-drought" state.
Thames Water has 8.8 million customers in London and the Thames Valley.
Chief executive Martin Baggs said: "While it is unlikely we will need to impose any restrictions this year, we would always urge our customers to use water wisely."
He added: "After a very cold winter, we now face the prospect of a very dry summer.
Profits down
"In the same way everyone pulled together to help us tackle leaking pipes, we now need to ask our 8.8 million water customers to be careful about the amount of water they use."
The company added it had met its leakage targets for the fifth year running despite the coldest temperatures recorded in its 20,000 miles of pipework and a four-fold increase in the number of burst pipes.
Thames said pre-tax profits more than halved in the year to the end of March to £208.5m, down from £453.6m the previous year, as the company absorbed the new price regime for the five years to 2015 imposed by Ofwat.
Thames Water supplies households in London, Berkshire, Buckinghamshire, Gloucestershire, Kent, Oxfordshire, Surrey and Wiltshire.