Money 'wasted' sending more than one London ambulance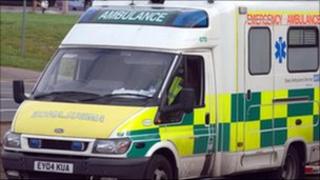 London's Ambulance Service is wasting money by sending too many vehicles to some jobs, a new report suggests.
More than one vehicle was dispatched in 61% of call outs in London in 2009-10, higher than the England average of 49%, the the National Audit Office said.
The report blamed pressure to meet response time targets leading to "unnecessary ambulance journeys".
London Ambulance Service agreed it could be more efficient and said it was examining its practices.
'Unnecessary ambulance journeys'
Amyas Morse, head of the National Audit Office, said: "The time taken to respond to calls has until recently been the be all and end all of measuring the performance of ambulance services.
"However, this led to an increase in the number of multiple responses to incidents equating to millions of unnecessary ambulance journeys."
"We will take on board the other recommendations in the report and will continue to benchmark with other ambulance services and share data to further improve our services.
London Ambulance chief Peter Bradley said: "We recognise that we need to become more efficient by reducing the number of resources we send to individual incidents.
"We will always need to send more than one ambulance crew to the most serious calls.
"But increasingly we want to send single ambulance responders to patients with less serious conditions who can assess them on scene to determine what care will best meet their needs."