Barcelona fan faces Eros statue repair bill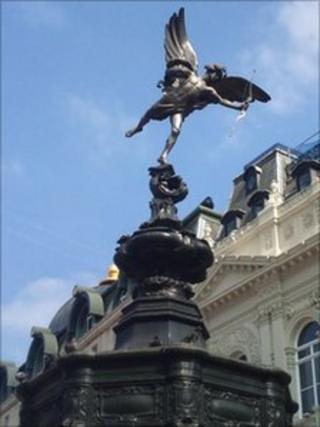 A Barcelona fan who broke London's iconic Eros statue while celebrating his club's Champions League win could face a £6,000 repair bill.
The archer's bow was bent and its string broken as the fan climbed the statue on the evening of 28 May.
Fans had congregated in Piccadilly Circus after Barcelona beat Manchester United 3-1 at Wembley.
The 24-year-old, believed to be a student in London, was given a caution after admitting criminal damage.
The council said it intended to recover the costs of repairing the statue from the football fan.
A spokesman said it was the second time in a year that repairs had been made to Eros following football-related vandalism.
In July 2010 it was broken by fans celebrating Spain's victory in the World Cup.
Created by sculptor Alfred Gilbert, the statue was erected in 1892 to commemorate Anthony Cooper, the 7th Earl of Shaftesbury, whose work for the poor led to calls for a memorial in his honour.
Councillor Robert Davis, Conservative, said: "This was yobbish behaviour.
"Public money shouldn't be wasted clearing up after wanton acts of vandalism.
"That is why we will be seeking to recover any funds we spend on repairing the statue from the individual concerned."