Thames 'super sewer' plan for Bermondsey site opposed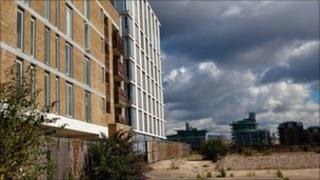 Plans to use a site surrounded by flats and schools on the Thames riverside in south-east London for a "super-sewer" are being opposed by residents.
People living near Chambers Wharf in Bermondsey said it would be "unbearable and unliveable", with construction work expected to last seven years.
Thames Water said the site was being considered for the 20-mile tunnel but no decisions had been made.
It promised to cover the site, if chosen, to control the noise and dust.
The 20-mile (32km) Thames Tunnel would run from west to east London collecting 39 million tonnes of sewage discharged into the River Thames every year.
Thames Water said the Victorian system was incapable of coping with modern needs and large quantities of sewage leaks into the river triggered by rainfall.
Save Your Riverside campaign was started after the water firm said it was looking at Chambers Wharf as a potential alternative to King's Stairs Gardens in Rotherhithe.
Andrew Or, chairman of the campaign, said the brownfield site was surrounded by 140 flats and three schools and residents had been told that work will last for seven years, with three years of round-the-clock construction.
He said: "Residents and schoolchildren of Bermondsey face the prospect of a 100ft wide by 250ft deep hole, 24/7 construction for three years and almost a decade of noise and dust pollution, with tunnels being driven under hundreds of homes, which may cause a considerable loss in value."
He added that plans to redevelop the site as a green residential area could also be pushed back.
Actor Sir Patrick Stewart, also a local resident, said: "Living conditions may be unimaginably damaged".
Phil Stride, head of London Tideway Tunnels at Thames Water, said: "No decisions have been made.
"We will build a warehouse-type structure over where we are working so that we can clad it so that we are able to control not only noise, dust and light nuisance".
The results of a public consultation published in March by Thames Water found 922 of the 2,869 people who responded supported the plans, but 248 were against, prompting them to look at possible changes at 13 sites.