London Tube strike dates announced by RMT union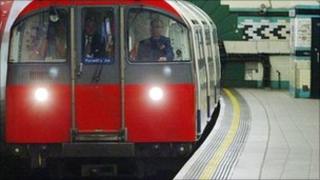 Tube drivers are to strike four times in two weeks in a continuing row over the sacking of a colleague.
The Rail Maritime and Transport union (RMT) said its members would walk out on 19, 27 and 29 June and 1 July.
The union said the action was over a failure to agree to reinstate driver Arwyn Thomas, who is awaiting the results of an employment tribunal.
London Underground (LU) said it was premature for the RMT to strike before the conclusion of dispute procedures.
The RMT said union activist Mr Thomas, who is claiming unfair dismissal, had been sacked on disciplinary charges following "unproven" allegations by strike-breakers.
It accused LU of refusing to reach an agreement that would reinstate Mr Thomas, despite his successful appeal for "interim relief" for unfair dismissal at the tribunal.
'Good faith'
RMT General Secretary Bob Crow said: "RMT has made every possible effort to get Arwyn Thomas back to work and it is the intransigence of LU management who have dragged their heels and failed to reach agreement over the past month that has left us with no choice [but] to put this strike action on.
"This is a clear cut case of victimisation and RMT calls on London Underground once again to stop the delaying tactics, and the continuing waste of hundreds of thousands of pounds that they have thrown at this case, and get Arwyn Thomas back to work."
A Transport for London spokesman said: "It is completely mystifying that, having agreed with London Underground that the tribunal process should take its course, the RMT leadership is now threatening strike action again.
"We committed in good faith to legal discussions ahead of Mr Thomas' tribunal. Unfortunately, no agreement was reached."
Drivers belonging to the RMT will strike between 2101 BST on 19 June and 0300 BST on 20 June, between 2101 BST on 27 June and 1159 BST on 28 June, between noon on 29 June and 1159 BST on 30 June and between noon and 2100 BST on 1 July.