Blackfriars cyclist safety debate 'evaded by Tories'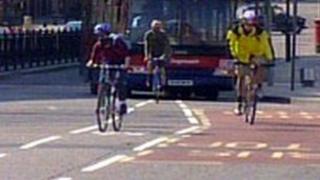 Conservative Assembly members have been criticised for walking out of the chamber prior to a discussion about cycle safety on Blackfriars Bridge.
A motion was due to be held in the Greater London Authority urging mayor Boris Johnson to reconsider plans to scrap a 20mph speed limit.
The motion was tabled after a temporary speed limit that was put in place while roadworks were carried out was removed.
Tory London Assembly member Andrew Boff said the issues were not being evaded.
Mr Boff said the walkout had nothing to do with the issue of Blackfriars Bridge or air pollution.
"This is part of ongoing action that the group is taking in response to the Labour, Lib Dem and Green party groups voting en-block to prevent Conservatives from taking up the proportional number of committee chairmanships, thus depriving the 40% of Londoners who voted for us a voice.
"This action will continue and will not be announced in advance."
'Opportunity denied'
Caroline Pidgeon, leader of the Liberal Democrat London Assembly Group said: "It is shameful that the Conservative Assembly members have played student politics today and by walking out of the chamber have sabotaged democratic debate.
"Today the London Assembly could have sent out a clear message about the need to ensure that Blackfriars Bridge is made safer for cyclists."
She said due to the actions of Conservative Assembly members that a "key opportunity has been denied".
Labour London Assembly member, Val Shawcross said "it was unbelievable that the members of the Conservative group apparently found this issue unworthy of debate".
The London Cycling Campaign (LCC) said it had been strongly arguing for a 20mph limit at Blackfriars to reduce road danger and help meet the mayor's aspirations to turn London into a cycling city.
LCC chief executive Ashok Sinha said: "We don't mind losing a fair fight by reasoned argument - that's part of debate.
"But it appears that some members of the London Assembly would rather make political gestures than debate the crucial issue of road danger reduction."
Kulveer Ranger, from the mayor of London's office said the safety of cyclists was the mayor's absolute priority but a 20mph speed limit would not be of benefit when traffic is lower during the remainder of the day.
A discussion on air pollution was also due to have taken place at the meeting.