Ken Livingstone 'Ratko Mladic slur' criticised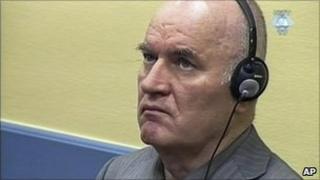 London mayoral candidate Ken Livingstone has come under fire for comparing a Conservative politician to alleged war criminal Ratko Maldic.
Mr Livingstone described City Hall chief of staff Eddie Lister as the "Ratko Mladic of local government".
Gen Mladic is facing charges of overseeing the killing of 7,000 people during the 1990s Balkan conflict.
The Tories called the comments "beyond the pale". Mr Livingstone's spokesman defended his "colourful phrasing".
Attacking the comments, James Cleverly AM, Conservative, said: "I have friends and colleagues who served in Bosnia during the 1990s who still find it painful to recall the incredible horrors that were perpetrated against innocent civilians during the conflict.
'Beyond the pale'
"Comparing Edward Lister to the instigators of such vicious crimes is both personally offensive and degrades the suffering of the victims of ethnic violence in the Balkans.
"While politicians are rightly expected to have thick skins there are some comments that are beyond the pale and should have no place in London politics."
Mr Lister recently gave up his post as leader of Wandsworth Council, which has faced criticism for planning to charge children to use an adventure playground.
Mr Livingstone's spokesman said: "With recent changes to his team, Boris Johnson has promoted the wing of the Conservative party that has now caused outrage by planning to charge kids to use their playgrounds.
"Ken's phrasing is always colourful.
"But as ever he is standing up for parents who face charges for their children to use playgrounds."
Gen Mladic was recently arrested after years in hiding and faces trial at the Hague.
In 2006 then-mayor Ken Livingstone was suspended for likening a Jewish reporter to a "concentration camp guard".
Next year Mr Livingstone goes head-to-head with Boris Johnson in a re-run of their 2008 mayoral battle.