First Capital Connect three-hour delay train inquiry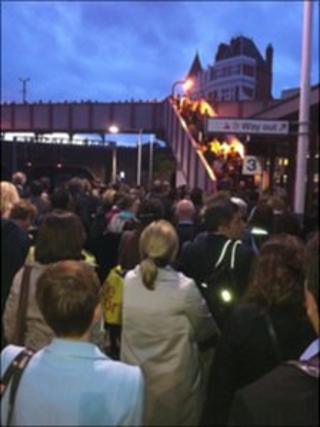 An inquiry has been launched after passengers stuck for hours on a stalled train forced open doors and jumped on to the track, only for the train to start moving again.
The train with 476 people on board got stuck, partly in a tunnel, due to power supply problems on 26 May.
The incident happened between London St Pancras and Kentish Town stations on a First Capital Connect service.
The Rail Accident Investigation Branch (RAIB) is to lead the investigation.
The Brighton to Bedford train was fully loaded with many passengers standing when it stopped at about 1800 BST.
RAIB said: "The train began to move at 2103 hrs but this movement was immediately stopped because passengers were getting on to the railway from the carriages within the tunnel.
"The investigation will identify the sequence of events that led to the movement of the failed train with open doors."
A First Capital Connect (FCC) spokesman said: "We are fully supporting the RAIB investigation and have commissioned an independent investigation into this incident as well.
"Once our independent investigation is complete we will make the findings available to customers."
RAIB said the train had stopped because of an electrical problem on the train itself which had caused the overhead line's electrical protection equipment to trip, cutting off power to several trains in the area.
FCC maintained it was overhead power problems that caused the train to fail and not a train failure.