Thousands of River Thames fish killed by storm sewage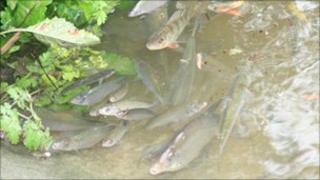 Thousands of fish have died after large amounts of storm sewage flooded into the River Thames.
More than 450,000 tonnes of sewage overflowed into the river in west London when heavy rain fell on Sunday.
The Environment Agency said oxygen had been added along a 1km (0.6m) stretch of water where dead fish and sewage debris has been spotted.
Thames Water is carrying out a clear-up operation along a 12km (7.5m) stretch between Kew and Albert Bridge.
The Environment Agency said more than 250,000 tonnes of storm sewage from sewer overflows, and at least 200,000 tonnes of storm sewage from the Mogden sewage treatment works in Isleworth, was released into the river at the weekend.
Oxygenation vessels
This, combined with the current warm, dry weather and low river flows, resulted in low oxygen levels and fish deaths along a 1km stretch of the river.
Fish, including flounder, bream, roach, eel, dace and other aquatic life such as water shrimps, have been found dead.
Thames Water has put hydrogen peroxide into the water at three different locations, to add oxygen, and the agency has sent its oxygenation vessels to the area.
According to the agency's director, Howard Davidson, discharges from combined sewers happen 50 to 60 times a year and can be caused by as little as 2mm of rainfall.
Mr Davidson said that on Sunday, more than 30mm had fallen over west London.
He said: "This is a major sewage pollution incident which has caused the death of a huge number of fish.
"We are currently monitoring Thames Water's clean up efforts and assessing the full impact but unfortunately we may never know the exact numbers of fish that have died."
'Totally unsatisfactory'
Storm sewage is waste diluted with rainwater and occurs where a combined sewage network operates - one which takes both sewage from homes and businesses and rainfall run-off from roads and other hard surfaces.
Martin Baggs, from Thames Water, said: "Incidents like this are clearly totally unsatisfactory in a modern capital city and we have a major programme of work under way to sort the problem out."
Thames Water is currently reviewing responses to the first round of consultation on plans for a 20-mile (32km) "super-sewer".
The proposed Thames Tunnel would run from west to east London, broadly following the route of the river, collecting storm sewage.
If approved, construction on the tunnel would begin in 2013 and be completed by 2020.