Tube and DLR property thefts 'rise by 48%'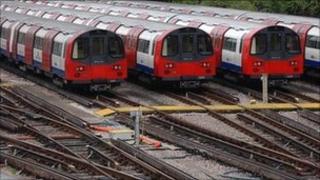 Theft of railway property on London Underground and the Docklands Light Railway rose by 48% in the past year, British Transport Police has said.
The situation on the London network was worse than the national picture, which saw a 15% rise in the crime.
Robbery and fraud on the services also rose more than the national average, but overall crime fell by 7.3%.
Transport for London said it was "not complacent" about tackling the problems, including copper cable theft.
BTP said a 70% rise nationally in the theft of copper cables contributed to the general rise in theft of railway property and had led to disruptions to train services.
Covert operations
On LU and the DLR networks, incidents of thefts of railway property - including cable theft - rose from 407 in 2009/10 to 602 in 2010/11.
There was also a 17.5% rise in robbery, from 137 incidents to 161, and a 10.2% increase in fraud offences, from 206 to 227, figures showed.
Transport for London (TfL) said the rise in robbery offences was "low particularly in context of the billions of journeys".
"Another offence that has seen a rise in the past year is theft of railway property, most notably cable theft," it said.
"To combat this, officers from the BTP are using various tactics including covert operations and community based intelligence to crack down on those whose actions can disrupt the Tube."
The network saw a 42.6% drop in drugs offences, from 1,266 to 727, and a 20.3% fall in criminal damage, from 1,337 to 1,066, including vandalism, BTP said.