Epsom Derby racegoer injured as train is stopped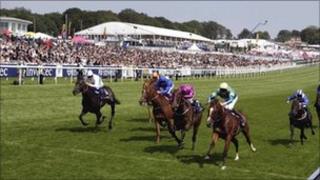 A woman was badly burned as she stepped on to the line when a train packed full of Epsom Derby racegoers was stopped and the doors forced open.
The emergency cord was pulled on the Victoria-bound service near South Croydon station, south London, when a fight broke out on Saturday night.
Police said the woman, 22, who was in a separate carriage, then climbed out the doors and on to the line.
She remains in hospital. Her condition is not thought to be life threatening.
British Transport Police (BTP) were called at 2044 BST to reports of a fight between a group of men on the 1950 BST service from Tattenham Corner station near the racecourse in Epsom, Surrey.
'Stark reminder'
The emergency cord was pulled by a passenger as the train approached South Croydon station.
Police said a set of doors were forced open and the woman, from Mitcham, south London, stepped down on to the line.
She suffered burns after touching the live third rail and was taken to hospital.
A BTP spokeswoman said the "separate" incidents were being investigated and there had been no arrests.
Insp Jack Ioannou, from Croydon BTP station, said: "This incident serves as a stark reminder that members of the public should never attempt to go on or near the tracks unless directed to by a member of rail staff or a police officer.
"The live third rail powers trains across south London, carries 750 volts of electricity and remains switched on 24 hours a day, seven days a week."