Dogs 'approve' London Royal Parks drinking holes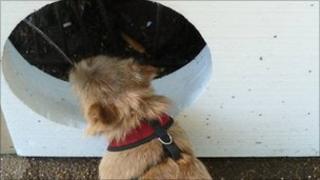 Dogs have been trying out a new type of water fountain specially designed for London's Royal Parks.
The polystyrene prototype of "Watering Holes", tested in Hyde Park, is one of a two of creations chosen to replace ageing fountains in eight parks.
And dog walkers said the design, which has a shallow scoop carved into the lower watering hole, proved popular as their pets could lap the water.
The first water fountain will be installed later this year.
Watering Holes and Trumpet were the winning designs chosen in an international competition, organised by the Royal Parks Foundation, to find the "Ultimate Drinking Fountain".
Bowl feature
Entrants were judged on aesthetics, robustness for life in a public park, ease of maintenance and installation, sustainability and environmental impact and affordability.
A consultation with dogs and their owners began last month and the designs, tweaked after feedback, are now complete.
Robin Monotti and Mark Titman, designers of Watering Holes, said: "Whilst it does appear slightly comical, the dog consultation phase is actually a very important stage of the design process and has helped us to ensure the design is functionally suitable for all users.
"The addition of the new bowl feature has been very well received by dogs, and owners have confirmed their dogs would be much more likely to drink from it now."
A $1.25m (£765,000) grant from the Tiffany & Co Foundation will pay for one of each of the winning designs to be installed in one of the Royal Parks this year, with more fountains of each designs to be added.
It is part of a project, called Tiffany - Across the Water, which aims to restore the Royal Parks' historic drinking fountains and replace those beyond repair with new ones.
A 20ft (6m) tall plume fountain will be recreated in St James's Park, and Kensington Gardens' 19th Century Italian Gardens will be restored as part of the scheme.
The Royal Parks Foundation is responsible for Bushy Park, The Green Park, Greenwich Park, Hyde Park, Kensington Gardens, The Regent's Park and Primrose Hill, Richmond Park and St James's Park.