Playboy Bunnies: Modern feminists or 'club decoration'?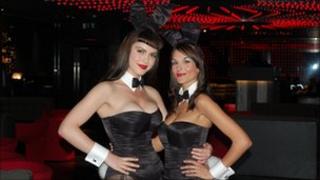 She was a psychology graduate looking to earn some extra money to fund her post-graduate degree, when she saw the ideal opportunity to earn a bit of cash.
The job advertisement Sara saw in the Metro newspaper last Christmas promised good pay as well as glamour, and it was something she had a passion for.
And now, about six months later and after beating nearly 3,000 other applicants, the 27-year-old from Manchester is about to start her new job - as a Playboy Bunny.
She will be among 80 Bunnies to have been recruited when Hugh Hefner formally reopens the Playboy Club in Old Park Lane, Mayfair, on Saturday, after the original club closed in 1981 after 15 years.
"I had a down moment just before Christmas, I was on the Tube and looked at the Metro and saw 'The bunnies are back'," she said.
Her "passion" for the "vintage idea of the 60s" led her to think she would be "a good Bunny".
Teresa, 27, a mother of two originally from Derbyshire, will work as a croupier with Sara.
It was the "glamour" of the brand which attracted her, and apart from the pay - which according to the Mayfair Croupier Academy website can be up to £30,000 a year - "the hours in which I work allows me to be a mother".
Describing the recruitment process Teresa said: "We had casting, we had to host a cocktail party, a maths test and an interview - as being a croupier you need to know your numbers."
The new Bunnies, aged between 19 and 40, will work at the club as cocktail valets, wearing the red bunny costume, and croupiers, in black costumes, who will work in the casino area.
'Over the moon'
They are following in the footsteps of the likes of Barbara Haigh who "donned the bunny ears and tail" as a 21-year-old in 1971 and stayed with the club until it closed.
As a former cocktail bunny, Miss Haigh, now 61, recalls being on her feet for up to eight hours a day and having to learn 200 types of liquor and how they were to be served.
She said: "We could lose our jobs if we lost our bunny image.
"If a girl had possibly been a bit over-familiar, or wouldn't groom herself as well as expected, if somebody had put on weight and hadn't taken the trouble to lose it, these were all sort of conditions of your contract."
But she said it was worth it. "I was a celebrity I suppose," she said.
But the news did not initially go down well with her father who was a high-ranking police officer in Liverpool. They reconciled after he visited the club months later.
"He told me he thought I was selling my body and I would probably be back in two weeks crying poverty," Miss Haigh, owner of The Grapes pub in Limehouse, east London, said.
There were no such dilemmas for Sara and Teresa, who insist their families were "over the moon".
The return of the bunnies has not been welcomed by all, especially women's rights groups UK Feminista and Object who have launched a campaign called 'Eff Off Hef'.
Anna van Heeswijk, campaigns manager for Object, said: "The Playboy Club degrades women as fluffy animals who are marketed as sexual playthings for wealthy men.
"There's nothing classy and sophisticated about sexualising and objectifying women as bunny rabbits.
"Hugh Hefner very much put himself forward as trying to create a liberation for men away from the home so the men could be the ultimate playboys and have as many girlfriends as they want and these girlfriends are dehumanised as bunny rabbits."
But the new Playboy recruits insist this is a misconception.
Sara said: "It is actually creating an interesting debate on modern feminism.
"Of course I am academic, (and) I consider myself an intelligent, articulate person but I am also allowed to have fun and to feel like a woman."
Miss Heeswijk said: "The protest is not geared towards the Bunnies at all. Our focus is on the industry which makes money out of degrading and exploiting women."
More than 100 women have promised to join the 'Eff Off, Hef' protest at the launch of the club.
Lucy Sharp, spokeswoman for London Clubs International, which has bought the Playboy Club brand for London, said the club was predominantly a casino.
"The club in the 60s is not the club that it is today. We are in 2011, times have progressed the brand has moved forward," she said.
"The Bunnies are trained croupiers. They are in no respect related to any strip clubs or lap dancing joints.
"Our Bunnies are croupiers or they are valets, they just happen to be wearing the iconic Bunny costume. We are not a gentlemen's club, we welcome male and female members."
Playboy Club said about 850 people, including 350 women, have signed on as members, including Elton John's partner David Furnish and model Yasmin Le Bon.
Looking to the future, Sara said: "I would like to have a doctorate in clinical psychology and practice within the NHS, but you never know with life."