Funeral of Cherry Groce, woman shot before Brixton Riot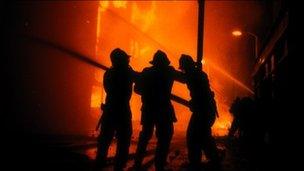 The funeral has taken place of the woman whose accidental shooting by the police led to the 1985 Brixton Riot.
Cherry Groce was left paralysed from the waist down when she was shot by police looking for her son in connection with a robbery.
Rioters armed with bricks and wooden sticks fought with the police after news of Ms Groce's shooting reached the south London community.
She died earlier this month, almost 26 years after the riot.
During the 1985 riot, a photographer died after being hit on the head with a brick.
Fifty more people were injured and there were over 200 arrests.
Rioters also set alight a barricade of cars across the Brixton Road with petrol bombs, while some shops were looted.
Insp Douglas Lovelock, who shot Mrs Groce, was cleared of criminal charges in 1987.
Related Internet Links
The BBC is not responsible for the content of external sites.