George Davis says his supporters were 'justified'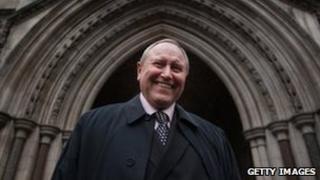 Punk band Sham 69 wrote a song about him, The Who's Roger Daltrey wore a T-shirt declaring his innocence and his name became part of criminal folklore.
During the 1970s, George Davis's name was painted across road and railway bridges as his case attracted widespread attention.
His supporters insisted he was the victim of mistaken identity and had not taken part in a robbery in Essex in 1974 in which a police officer was shot in the leg and injured.
Nearly 40 years on, they have reason to celebrate. Mr Davis, 69, has won his appeal against his conviction.
Friend 'ecstatic'
The former minicab driver, who lives in London, said the ruling was "a bitter-sweet moment".
Mr Davis, who had always claimed he had been falsely identified, said: "I am, of course, delighted that my conviction has been quashed," he said.
"I have pursued this appeal for all these years because I wanted all those people who worked for, and helped, the campaign in the 1970s to know that their support was justified."
His loyal friend Peter Etchells, who was formerly known as Peter Chappell, said: "I'm ecstatic for the people that believed in me - and there were thousands of them, tens of thousands, maybe even hundreds of thousands of people in this country - believed in the message that I was putting out."
During the 1970s, Mr Davis's friends, family and former wife, Rose, embarked on a high-profile bid to expose what they believed was a miscarriage of justice.
His supporters wore countless badges and T-shirts branding the words: "George Davis Is Innocent OK."
Punk band Sham 69 wrote a song of the same name.
To attract media attention, campaigners chained themselves across Fleet Street.
Meanwhile, Mr Etchells drove his lorry into the front doors or up the steps of the offices of many national newspapers.
'Telling truth'
To attract more attention still, he then drove into the gates of Buckingham Palace.
In 1975, campaigners, calling for Mr Davis's release vandalised the pitch at Headingley cricket ground in Leeds.
They dug holes in the pitch and poured oil over one end of the wicket.
The walls surrounding the ground were also daubed with slogans demanding Mr Davis' release.
The next day the pitch's groundsman George Cawthray said: "When I first saw the damage it did not sink in. I was amazed."
The campaigners' actions led to the final match between England and Australia being abandoned and declared a draw robbing England of the chance to win back the Ashes.
But the campaign may have paid off.
Home Secretary Roy Jenkins said there was serious doubt about Mr Davis's identification and asked for a review of the case. In May, 1976, he was released.
But it has taken more than three decades for Mr Davis to successfully win his appeal.
"!t should not have taken 36 long years for me to be able to stand here like this," he said.
"This would not have been possible without the help of my good friend Peter Chappell [now Peter Etchells] and his wife Shirley, my late ex-wife and all of those people who worked with the campaign," he added.
Mr Etchells said: "They didn't know that George Davis was innocent, but they believed in me.
"I want to say to all those people - serious people, workers, progressive people in the middle class -I want to say to them all 'thank you very much and I was telling the truth'."