Surrey Canal sporting village plan receives major boost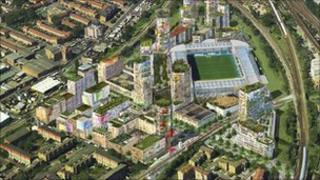 Plans to create a world-class sports centre in south east London for elite athletes and the local community have received a major boost.
A new body, the Surrey Canal Sports Foundation, has been set up to oversee the project in Lewisham.
It will be chaired by the former London mayoral candidate, Steve Norris.
The scheme is supported by Sports England who are keen to ensure a lasting sports legacy after the 2012 Olympics.
The 500,000 sq ft complex will include spaces for boxing, cricket, table tennis, gymnastics, football, basketball, netball, hockey and a new leisure centre with swimming pool.
This major 'sporting village' will serve the local community, colleges and schools and clubs, as well as elite athletes preparing for competition.
Steve Norris, chairman of Surrey Canal Sports Foundation, said: "This is a fantastic opportunity to promote sport and healthy living within the local community who will have access to the facilities at affordable prices."
Mr Norris also said the new project "will make a strong contribution towards the 2012 Legacy by addressing the lack of high quality sports provision in inner London."
The development is part of a larger project that aims to regenerate the Surrey Canal area with the creation of 2,500 jobs, new homes, transport links and new community facilities.
It is hoped that work will begin on the site in 2013 and be completed two years later.