Royal Mail London postal staff vote for strike action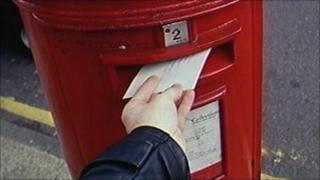 Postal workers in London have voted to go on strike in protest at job losses, which could lead to widespread disruption of deliveries.
The Communication Workers Union (CWU) is protesting at plans to close mail centres, which it said raised the threat of compulsory redundancies.
Its members backed industrial action by four-to-one in a turnout of 54%.
The union said up to 3,500 Royal Mail staff would strike unless reassurances were given over job security.
It said it also wanted allegations of bullying to be addressed.
'Essential modernisation'
CWU official Martin Walsh said: "London postal workers have sent a clear message to Royal Mail in this ballot that they will not be bullied or intimidated by the company.
"Royal Mail's closure plans are a clear threat of compulsory redundancy and this is completely unacceptable."
"In their race to push services to the bottom, Royal Mail will eventually provoke a reaction wider than London."
The union refrained from naming strike dates before efforts were made to resolve the dispute through negotiation.
Workers who were balloted were based at Mount Pleasant, Nine Elms at Vauxhall, East London Mail Centre at Bow and Rathbone Place in central London.
A Royal Mail spokesman said: "Royal Mail and the CWU have a clear agreement on the essential modernisation of the company.
"Royal Mail is fully delivering that agreement in the way it was intended."
Nine-month consultation
The company said the number of items posted in London was expected to fall by more than half between 2006 and 2014 and that it was investing £69m to modernise the operations remaining in Greater London.
It also said the decision to close east and south London mail centres was made after a nine-month consultation with the trade unions, as set out in the 2010 business transformation agreement.
"Following the union's input, East London Mail Centre is expected to close six months later than originally planned," said the spokesman.
As a result of the changes 580 people are likely to leave on redundancy terms. More than 670 full-time staff have expressed an interest in taking voluntary redundancy packages.