Met police bid to solve murder in Finchley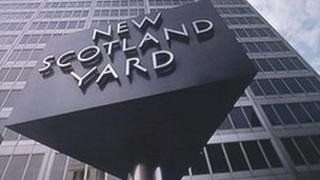 Police have launched a new effort to solve a murder inquiry which they say is linked to a missing person case.
Gilbert Wynter disappeared from an address in Haringey in March 1998, and eight months later Saul Nahome was shot dead in Finchley.
Police said the men were business associates who were known to one another.
Police hope that advances in DNA techniques will help them to bring the cases to a conclusion.
Mr Nahome, a 48-year-old accountant, was shot outside his home address in Arden Road, Finchley, on 27 November 1998.
Mr Nahome was shot in the back several times. He fell to the floor and the gunman fired further shots into his head.
The disappearance of 37-year-old Mr Wynter was reported to police on Monday 9 March 1998.
The self-employed jeweller was last seen when he left his family's home, off St Anne's Road, Tottenham, on 1 March of that year. Following his disappearance, Mr Wynter did not use his phone again or access his bank account.
Detective Chief Inspector David Manning said: "We are now convinced that the two cases are linked. Mr Nahome and Mr Wynter both associated with the same people and they were also well known to each other having been business associates at various times. "