London 2012 'will not be able to keep promise to young'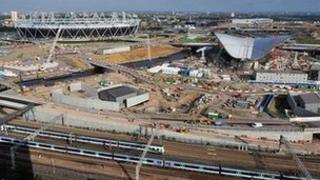 The London Olympics will struggle to keep its promise to help the UK's most disadvantaged young people, a report by a Conservative think tank says.
The Centre for Social Justice said the pledge to provide a sporting legacy would be a "highly effective sales pitch that was never fully realised".
In November, a £135m initiative, funded by the National Lottery, was launched to encourage mass participation.
The government said it was committed to "delivering a lasting legacy".
And Olympics minister Hugh Robertson has said improving facilities is a top priority.
He has also launched an initiative to offer young people six weeks of coaching in the sport of their choice.
'Challenge too high'
But the think tank's report says: "The scale of the challenge that the Olympic organisers have set themselves is too high for the relatively limited amounts of funding and the programmes that have been promised, to deliver successfully."
They said improved sporting facilities would not raise participation in sport and taster coaching courses had failed to engage disadvantaged groups.
The report said: "Limited available funding and the tendency to direct what there is into capital spending and short-term programming mean that it is difficult to see how the money allocated to this can be expected to produce greater benefits for disadvantaged young people.
"The participation target was intrinsically flawed from the outset, not just because it was more convincing as a sales pitch than a policy objective, but also because engaging any number of additional people in some unspecified sporting activity is not the same thing as a serious, targeted work aimed at transforming the lives of Britain's neediest people."
The report said the Sydney Olympics in 2000 had failed to raise participation in Australia.
It also said there was no evidence of a link between sporting success and increased levels of sporting activity.
A spokeswoman for the Department for Culture Media and Sport said they had not seen the full report but that the government and Olympic organisers were "committed to delivering a lasting legacy from the 2012 Games".
She said: "We are investing hundreds of millions of pounds to create better facilities and give people more opportunities to play sport.
"It is nonsense to suggest that there is no link between British sporting success and participation."
The report, More Than A Game: Harnessing The Power Of Sport To Transform The Lives Of Disadvantaged Young People, will be launched on Tuesday.