Wilton's Music Hall in funding fight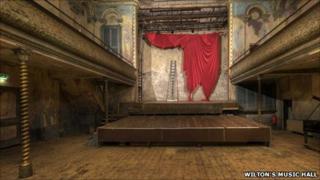 Tucked away in a back street in the heart of London's East End, a dilapidated row of terraced houses is the focus of a £4m restoration bid.
The plaster may be peeling off outside but even before entering Wilton's Music Hall there is a sense that something very special lies behind its wooden doors.
It is one of the oldest surviving grand music halls in the world and the charity behind the venue hopes its historical importance will help secure more than £2m in Heritage Lottery funding.
This would then be matched to create a £4m funding pot to carry out vital restoration work.
According to Wilton's artistic director, Frances Mayhew, Wilton's Music Hall is the birthplace of modern popular entertainment.
"This is the heritage of Britain's Got Talent," she said. "While a lot of the type of entertainment people enjoyed at the height of its popularity died out, the roots of it can be seen today," she says.
Pub history
The hall, in Graces Alley off Cable Street, was one of the first generation of public house music halls that sprang up in the capital in the 1850s. A mere 50 years later, they had all but disappeared.
Originally five terraced houses, John Wilton bought it and opened it as a music hall in 1858.
It was previously the Prince of Denmark pub, also known as the Mahogany Bar - which still exists at the music hall and attracts people from far and wide.
As the appetite for music hall entertainment waned, the Grade II-listed venue was taken over by the Methodist Church for use as a mission until 1956.
Until 10 years ago, it was a neglected, derelict building.
"The Wilton's Music Hall Trust was set up to bring it back to life and we put on plays and opera and we've had musicians like Marc Almond and KT Tunstall play here," said Ms Mayhew, who has been at Wilton's for seven years.
"It attracts a very wide-ranging crowd depending on what we put on.
"Over the last seven years we've done odd repairs to the building to keep it functioning but it needs a lot of renovation work now. It needs re-wiring, underfloor heating for the auditorium and structural work.
'Keep fighting'
"We wouldn't want to lose the character of the place. It's important we keep as much of it as it is. It's a wonderful place to work,"
In 2007, it was listed by the World Monuments Fund among 100 world cultural heritage sites currently under threat.
The trust has applied for £2.25m from the Heritage Lottery Fund to help carry out the much-needed work.
"We would have to match fund it and we've already had donations from individuals and other trusts but this Heritage Lottery money would enable us to do so much to the building and secure the future," said Ms Mayhew.
But while the Wilton's staff eagerly await the Heritage Lottery decision on Tuesday, if the funding fails to materialise, they will not give up.
"We'll just keep on working hard to raise the money," said Ms Mayhew. "It would be better to have the full amount as the work ideally needs to be done as one big project. We would rather not do it piecemeal but whatever happens, we'll do it."