Singer Pete Doherty jailed for cocaine possession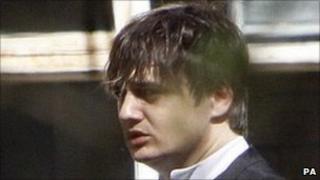 Singer Pete Doherty has been jailed for six months for possessing cocaine.
The 32-year-old was charged after an inquiry into the death of filmmaker Robyn Whitehead in January 2010. He pleaded guilty to possessing drugs.
Ms Whitehead, 27, was making a documentary on Doherty when she was found dead in a flat in Hackney, east London.
Doherty, of Camden, north London, was due to be playing Glasgow Barrowlands on Friday evening.
Doherty leaned forward in his seat as he was sentenced at east London's Snaresbrook Crown Court but did not show any emotion as he was sentenced for the single count.
Judge David Radford said Doherty had an "appalling record" of committing offences, having already made 13 other court appearances in the past.
Peter Wolfe, 42, who had pleaded guilty to two counts of possession of cocaine and one count of supplying cocaine to Miss Whitehead, was sentenced to a total of 12 months in prison.
Mr Radford said: "The circumstances in which the committal of these offences which I have to deal with today is tragic.
"Police became aware of the relevant evidence because of the investigation which followed the discovery of the sad death of a young woman who had been present at the address where the offences had been committed.
"The offences involved the social supply of crack cocaine in a crack cocaine pipe, which you (Wolfe) handed to that person.
"I make it clear though, abundantly clear, that the young woman's death was not caused by that supply of crack cocaine.
"Unhappily and tragically that woman died from the poisoning of another illegal Class A drug which she had chosen to take.
"The grief and loss to her family and friends caused by her death cannot and should not be sought in any way to be expiated by the sentence I pass today."
'Shocked and saddened'
Toxicology reports found she had died of heroin poisoning. Last year the Metropolitan Police said her death was not being treated as suspicious.
Doherty has said he was "shocked and saddened" by Ms Whitehead's death.
Peter Ratliff, defending Doherty, said any claim his client somehow glamorised drug use was misguided and said the singer was trying to give it up.
A spokesman for the Barrowlands venue in Glasgow said the gig would be postponed until further notice.