King's Speech therapist Lionel Logue gets green plaque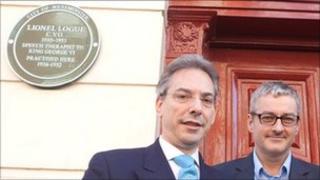 The therapist who helped King George VI overcome his stammer and inspired the film The King's Speech has been honoured with a plaque.
Westminster Council installed one of its green plaques at 146 Harley Street, where Lionel Logue practised from 1926 till 1952.
Mr Logue helped the then Duke of York to control his stammer from 1926.
His grandson, Mark Logue, was present at the unveiling on Thursday, with other members of the Logue family.
'Lasting tribute'
He said: "I can't think of a more fitting tribute, and one which my grandfather thoroughly deserves."
Councillor Robert Davis, Westminster Council's deputy leader, said: "We are delighted to honour Lionel Logue's outstanding commitment to his profession which extended to helping people from all walks of life, regardless of their social status or background.
"We hope that the plaque will serve as a lasting tribute to his work in the heart of the capital."
Mr Logue, who prepared the King for his address to the British Empire on 3 September 1939, as Britain declared war on Germany, remained close friends with him until the monarch's death in 1952.
The council awards green plaques to commemorate buildings in the area which are associated with eminent people who made lasting contributions.