MP calls for lorry sensors to cut cyclist deaths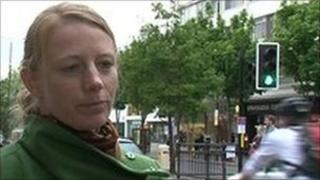 Sensors that can warn a lorry driver if a cyclist is in their blind spot should be mandatory, an MP has said.
Sir Alan Beith told the Commons haulage firms should be made to fit the sensors as part of his Road Safety Bill.
The Berwick-upon-Tweed MP took on the issue after being contacted by the family of Eilidh Cairns who was killed by a lorry while cycling in London.
He said the sensors and better mirrors could prove a "vital weapon" in saving lives of cyclists and pedestrians.
Cyclists can become trapped under the wheels of a lorry turning a corner as the driver is unable to see them in their mirror as they are in the blind spot.
City traffic
Sir Alan wants haulage companies to be forced to fit the sensors to cut the number of deaths and injuries.
A proposal by Transport Secretary Philip Hammond to make the installation of such sensors voluntary did not go far enough as firms that did fit them would be under-cut by those who refused, he said.
Proposing his Road Safety Bill to the Commons, Sir Alan said: "It is a problem which is particularly acute in city traffic, especially at junctions.
"It is a problem that is likely to increase as cycling becomes ever more popular as a means of getting to work in urban areas, and for leisure, and as lorries get bigger."
Practical measures
He said he was putting forward the case that many collisions leading to the deaths of cyclists and other vulnerable road users could be prevented.
MPs should seize "the opportunity to call for practical measures to save lives", he said.
Miss Cairns, 30, was crushed beneath the wheels of a HGV in Notting Hill, west London, in 2009 as she cycled to work.
Her family has been at the forefront of a campaign calling for improved European legislation to tackle cyclist deaths.
Her mother Heather, 69, from Ellingham, Northumberland, said their Liberal Democrat MEP Fiona Hall is trying to introduce legislation to ensure the sensors are fitted by firms across Europe.
She said: "The fact is that sensors should be standard on vehicles."