Lambeth Council warns of school places shortage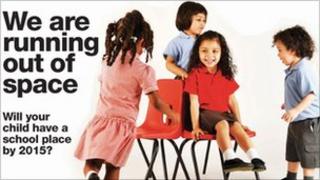 A south London council has warned it cannot guarantee a primary school place for every child in the borough by 2015.
Lambeth Council said the demand for school places has risen by 40% in the past four years in some areas and it would need 800 extra places by 2015.
The authority is asking residents to write to the government over its plea for £50m funding over two years.
The Department for Education (DfE) said it had given £800m to local authorities for additional places for 2011/12.
The council has received £40m from the government since 2006, for primary school places, and another £12m for 2011/12.
The money went into creating 11 permanent and 13 temporary facilities and 300 additional places since 2009, but it will need to find funds for another 800 additional places by 2015.
'Sticking plaster'
The council said it had spent £500 in printing 5,000 pamphlets, which have been distributed to nurseries and libraries, to gather public support for the campaign.
Peter Robbins, Lambeth's cabinet member for children and young people, said: "Our schools are full to the brim. We have already added as many temporary classrooms as we have space for but now we need proper investment to permanently expand schools.
"To help us make the desperately needed space, we are asking the government to provide £50m investment over two years.
"Our argument is clear, if we don't get funding, the alternative is to build so-called bulge classes. This approach is an expensive and temporary sticking plaster over the problem."
A DfE spokesman said: "The government, in a tight capital settlement for 2011-12, prioritised basic need to support the provision of additional pupil places, including doubling the amount allocated to local authorities to £800m. This has been targeted at areas predicting the greatest increases.
"However, the management and allocation will be informed by the James Review, which is aimed at ensuring that best value for money is achieved and that the maximum number of pupils benefit from the available funding."
London Councils, which represents the city's 32 boroughs, said the shortage of places is an issue across the capital.
"The shortage of school places across the capital has become critical with a predicted shortfall of around 70,000 over the next four years," it said.