Elephant and Castle shopping centre to be redeveloped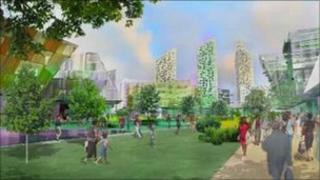 A well-known shopping centre in Elephant and Castle, south-east London, is to be redeveloped as part of a £1.5bn regeneration of the area.
Labour-led Southwark Council has agreed the details with the centre's owners.
Current plans include leaving some of the centre's concrete structure, but extending the buildings to provide more shops and living space.
The council said that the completed building would be "unrecognisable" compared with the current centre.
As part of the 15-year regeneration, the southern roundabout traffic layout has been changed, subways have been filled in and work to demolish the Heygate council housing estate has started.
Labour councillor Fiona Colley said: "This agreement is a major step to accelerate the transformation of the shopping centre, which could now happen within the next few years rather than towards the end of the 15-year regeneration process.
"The rebuilt centre would be unrecognisable compared to the current, much derided buildings."