Westminster motorists face stricter rules on parking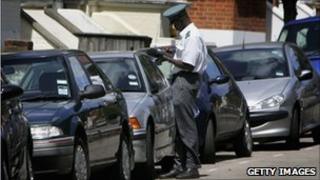 Motorists in central London could face tighter controls on parking as part of a major shake-up.
Westminster Council says the proposed changes follow complaints from residents about parking difficulties.
Plans include round-the-clock controls on residents' parking bays and higher charges for residents who have more than one vehicle.
The council said its proposals were part of the biggest shake-up to parking in central London for a decade.
A consultation on the plans has begun.
The council said feedback from residents showed 70% either "strongly agree" or "agree" with charging people extra if they park more than one car.
The proposal follows complaints from residents that large numbers of visitors were making it increasingly difficult to park in residents' bays in the evening, the council said.
It said the population of Westminster swelled from 240,000 to more than one million each day, placing enormous demands on transport and parking.
'New rush hour'
The council will also consult on extending the "hours of control", which usually end at 1830 BST, in the evenings and at weekends in parts of the city such as the West End.
It says that some parts of the West End are now at their busiest at about 2200 BST on weekday evenings.
In some areas at weekends, it says, traffic levels are so high from 0200 BST onwards it is creating a new rush hour.
Pressure on parking on Sundays in parts of Westminster has also risen, with demand on some parking bays higher than on weekdays.
Westminster said motorists now struggle to park on Sundays in paid-for bays in zones G, F and E, which cover the shopping, entertainment and tourism areas.
The draft policies are based on findings of a council review of parking across the city.
It included a public survey on parking priorities, traffic counts on key Westminster roads, and a study of how, when and where parking spaces across the city are used.
Other proposals include a review of green modes of transport, such as electric charging point bays and car club provision and more marshalled taxi ranks.
Lee Rowley, cabinet member for parking, said: "This research shows a clear need to review our parking policies."
'Substantial downturn'
The proposals drew some criticism from a parking appeal group.
Chartered accountant Barrie Segal, of Appealnow.com, said: "I'm concerned that when one considers the enormous number of business which rely on customers who visit after 1830 BST there could be a substantial downturn in business because customers would find it expensive and confusing to park."
The proposals, agreed by the council's cabinet on 9 May, are now under consultation for six weeks.
The last major review of parking provision in Westminster was in 2001.