'Women affected most' by English language funding cuts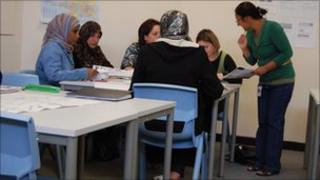 Five years ago, Layla Abdi Nur and her family fled the bullets and bloodshed in Somalia to come to London.
The single mother of four could not speak any English when she arrived from Mogadishu.
Now, after two years of full-time language lessons at the College of North West London, Miss Abdi Nur, 27, can make herself understood, but is still far from fluent.
"Now it is much better when I started to learn at this college," she said. "But when I meet the GP it is difficult to say what I need to ask them."
Because of the planned cuts in government funding for English language learners, she fears her chance of speaking the language well enough to one day become a nurse, come off benefits and support her family may be dashed.
From August, she will become one of 30,000 women in London on "inactive" benefits, such as income support and housing benefit, who will lose government funding for English for speakers of other language courses (ESOL), according to the Association of Colleges (AoC).
'Very shortsighted'
Last month, Prime Minister David Cameron said in order to better integrate, immigrants should learn English.
But for Miss Abdi Nur, the £1,280 annual fees are beyond her budget and in August she will be forced to stop attending.
Heidi Alexander, Labour MP for Lewisham East in south-east London, said the ESOL cuts are at odds with the prime minister's statements and she questioned their social impact.
"These changes will have a hugely disproportionate effect on women," she said.
"I'm all for people paying when they are able to pay, but these people are not in a position to be able to pay.
"It is very shortsighted."
Further education and skills minister John Hayes has commissioned a review, due this summer, to look at the impact funding cuts might have.
"There is a very good argument that, particularly women who are at home looking after children, we can provide additional help for them," Mr Hayes told the BBC.
"Because if you have particular communities where there are major language barriers and people are not able to get the skills they need, that could have a negative, knock-on effect."
Women make up more than two-thirds of all ESOL learners in England, according to the Association of Colleges.
'Positive outcomes'
Like the current system in this country, Sweden offers free language lessons to all immigrants who become permanent residents.
Director of education for the Swedish National Agency for Education, Suzanne Mehrens, said: "It's a political ambition to help people get a good start in Sweden and make it possible for them to integrate and to be able to start working as soon as possible, so that they can support themselves and contribute to society."
As it stands, England will move away from the model used in Sweden and only offer funding to those on "active" benefits, like Jobseeker's Allowance, from August.
Mr Hayes said he wants to ensure money the government spends "is producing positive outcomes" by helping people who are actively seeking work.
He added that people who received ESOL tuition in the past could have afforded a contribution to their fees.
But for Miss Abdi Nur, the opportunity to make a financial contribution to the country where she sought refuge feels as unlikely now as it did when she arrived five years ago.