Lambeth offers residents rewards for recycling efforts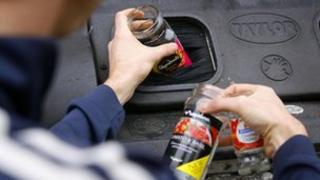 Lambeth residents will become the first in London to participate in a scheme offering rewards to those who recycle.
Recyclebank awards people who recycle each week with points that can be redeemed for vouchers to spend in local shops, cinemas and sports facilities.
The scheme will initially cover housing estates, which traditionally have lower recycling levels.
It is part of Lambeth Council's plans to encourage more people to recycle and to reduce waste disposal costs.
The initiative will allow 51,000 households across the borough to start earning points for their recycling efforts.
'Helping the environment'
Residents will be able to let Recyclebank know that they have recycled each week, either online, by phone or through a free iPhone app.
So far more than 100 local reward partners have been recruited to take part in the initiative, along with many national partners.
If it is successful, the programme will be rolled out to all residents in Lambeth within 12 months.
The Recyclebank programme is run in partnership with waste management provider Veolia Environmental Services.
It has previously rewarded residents of predominately low-rise properties in Windsor and Maidenhead.
Sue Igoe, UK Managing Director of RecycleBank, said: "Residents take an active role in helping the environment and are rewarded with vouchers for goods and services through the points they gain.
"The scheme offers real benefits for all parties involved and we look forward to giving even more residents the power to participate."