Children to be charged to use Battersea playground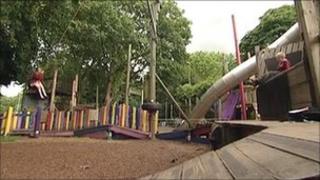 Families will have to pay a fee to use a playground in London's Battersea Park.
Wandsworth Council will trial charging £2.50 for children to use the adventure play area at weekends from September.
A council spokesman said the high-tech park cost £220,000 a year to maintain and the proposal had been prompted by the "difficult economic situation".
But the plan has been criticised by former London mayor Ken Livingstone who said it was "appalling".
'Elaborate equipment'
The council also claims the fee at the park is being brought in because on weekends half of the families who use it come from outside the borough.
Mr Livingstone said the move had left him "deeply concerned", while hundreds of people signed a petition against the charge on the council's website.
Mr Livingstone said: "Only the Conservative Party could consider charging kids to play.
"I believe London's parks and playgrounds should be free for London's families and I am deeply concerned at this attempt to turn publicly-funded playgrounds into areas which only the rich and privileged can enjoy."
He added he feared the proposal meant Conservative councillor Eddie Lister, who is leaving his position as leader of Wandsworth Council to become London mayor Boris Johnson's chief of staff, would "drive through a hard-right agenda at City Hall".
The council said the supervised centre for five to 16-year-olds "boasts some of the most challenging and high-tech play equipment found anywhere in London or the South East" and also hosts dancing, music and arts workshops.
'Closing theirs'
A spokesman described equipment at the park as "sophisticated and elaborate" and said it included zip wires, climbing walls and large wooden balancing structures.
He said £20,000 had recently been spent on new equipment and maintenance.
The charges were also needed to pay for more than a dozen staff at the park each weekend and for regular routine maintenance, the spokesman said.
Children's services spokeswoman Kathy Tracey said: "While we are maintaining our facilities, other councils are simply closing theirs.
"Introducing a pilot charging scheme at weekends will allow us to carry on investing in the centre, recoup some of those costs and allow us to continue providing the best value for money we can for our council tax payers.
"At less than half the price of a child's cinema ticket we certainly do not believe the fee is excessive, and given that children can spend all day at the centre enjoying a wide range of supervised activities we think this represents great value for money for parents.
Not staffed
"There is also, of course, a question of fairness that council tax payers in Wandsworth should not have to shoulder the entire burden of funding a resource that is enjoyed by thousands of families who do not live in the borough and therefore do not at the moment pay a penny towards its upkeep."
Its "rough and tumble" nature meant supervisors were necessary and the site also needed a high level of maintenance, she added.
Wandsworth Council has run the park since 1986 when the Greater London Council was abolished and has upgraded the facilities in recent years, a spokesman said.
He said the charges were agreed in February.
The spokesman ruled out any likelihood of the council charging for its two other adventure playgrounds in Wandsworth because they are not staffed.